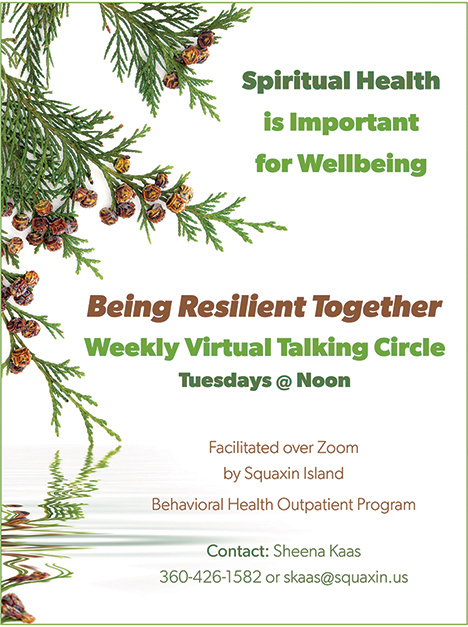 UPDATED!
Squaxin Island Behavioral Health Services operations under Tribal/State of Emergency
While the Tribe is operating under a Tribal/State of Emergency, Behavior Health will continue to be available as essential staff through a Tele-Health system. This means we will be working through a face-to-face video chat and telephone application while our employees and clients are in the safety of their home. Our front office staff will also be available to take, return and transfer calls during this time.
At this time, we are offering the option of replacing current and/or future scheduled counseling appointments with a video chat session through 3CX Web Meeting, Zoom and/or doxy.me platforms – all available to both Apple and Android users. If this is a route you are wanting to explore, please contact Kaitlyn at the front desk (360-426-1582) to schedule or, if you have access to your counselor through their work cell, you can schedule a session with them. Staff will take the time to walk you through the process in order to make this and ourselves available to you.
We have access to all of our regular contact methods during business hours 8:30 a.m. to 5:00 p.m!
As always, if this is an emergency and you are unsafe, dial 911.
BEHAVIORAL HEALTH MAIN LINE: 360-426-1582
MASON/THURSTON CRISIS CLINIC: 360-586-2800
---
Suicide prevention project, THRIVE, at the Northwest Portland Area Indian Health Board
STAY SAFE, STAY HEALTHY: How to receive mental health assistance during COVID-19 without going to the emergency room and potentially being exposed to the virus.
YOUR SAFETY IS IMPORTANT – so reducing possible exposure to COVID-19 is imperative. If you, or someone you know, needs assistance with a mental health concern, please call the Suicide Prevention Lifeline at 1-800-273-8255 or the Disaster Distress Helpline at 1-800-985-5990. The accessible and free mental health crisis services that these helplines offer is especially vital during times of physical distancing do to COVID-19. These helplines may be used to overcome barriers to services caused by distance or unavailability of in-person mental health support and can prevent unnecessary exposure during the coronavirus pandemic.
We need you here. We need you to stay healthy, and being in emergency rooms during this pandemic is not safe, unless you have a physical or medical need to be there. For mental health concerns, the call-in and text lines have people answering who are highly qualified to talk and provide the best recommendations for one's mental health concerns.
As we go through these challenging times, it is our community that makes us stronger, even though we are under recommendations for continued social distancing and safe practices. The outbreak of the coronavirus disease (COVID-19) may be stressful for many people. Fear and anxiety can be overwhelming and cause strong emotions in adults and children, such as feelings of being confused and overwhelmed.
We understand it may be difficult to maintain a physical distance to stop the spread of COVID-19, especially when the need for human connection and emotional closeness is at its peak. That is why it is important we stay connected with family and friends through different forms of communication to ensure no one feels they are alone.
If you, or someone you care about, talks about wanting to die, such as saying, "I just don't want to be here anymore," or feels extreme sadness and is showing behaviors such as changes in sleep or eating patterns, and/or wants to harm themselves, then we can take action to try to help and support them.
These may be tough decisions to make, however, we need to reach out and help others. We need to protects ourselves, our families, friends, and tribal communities. We are deeply grateful for each of you and hope you can find moments of peace and connection during this time. Remember you are not alone; we are connected, and we need you here.