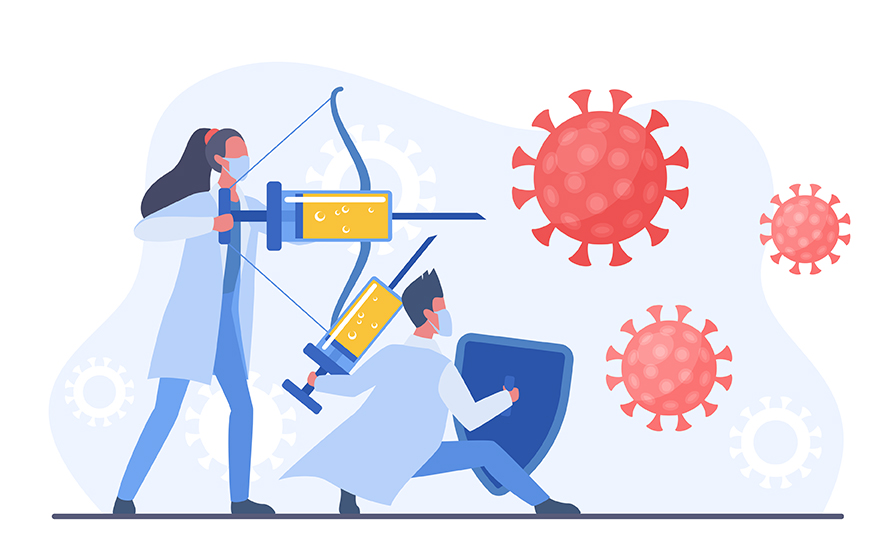 ---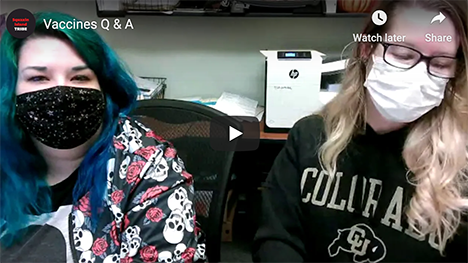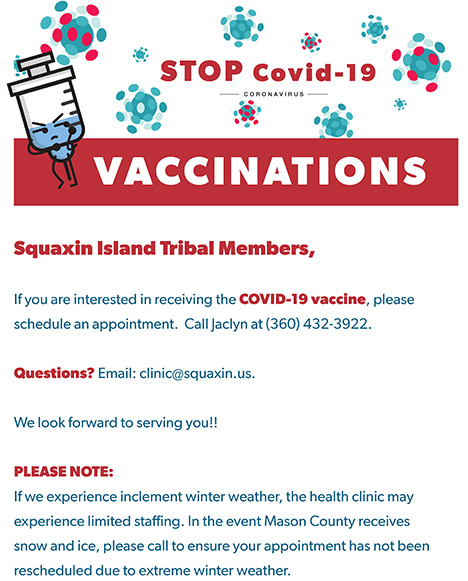 Vaccinations are continuing at the Squaxin Island health clinic.
It is critical that you show up at your appointed time. Each vile contains 10 doses which must be used within six hours after being opened. Everyone must show up when scheduled, or we run the risk of wasting vaccines.
The vaccines are a two-part series. The second doses is due three weeks after the first vaccination. Please schedule an appointment for the second dose with the health clinic front desk prior to leaving the clinic.
All persons who receive a vaccination need to wait for 15 to 20 minutes after the vaccine is given to monitor for side effects, if any, and let the health clinic know if they experience any.
Please continue to wear your mask and practice social distancing to protect our tribal community.
---
The vaccine is made by Moderna and has been tested and proven effective. (See articles below.)
First to receive the vaccine: Elders over 65, health care workers, and other vulnerable adults
Second to receive the vaccine: Tribal members, descendants, employees and other community members.
Vaccines will only be made available to adults 18 years of age and older.
Vaccinations will be a two-part series. The  second vaccine is due approximately 3 weeks after the initial vaccination.
Many critical items needed to be in place for us to order, receive, store, monitor, administer, and document vaccines. Tribal Health Services staff are extremely busy administering this major event. Training and documentation is critical.  Our staff are well equipped to handle the process.
Please stay the course.
Stay home when you are sick
Even after the first dose, continue to wear your mask, practice social distancing, limit gatherings and avoid public spaces as much as possible
Take your vitamins C & D and Zinc which help strengthen your immune system
Get outdoors and exercise
Work from home when possible
Please understand that vaccines are always on trial, even if they have been approved.
Moderna has completed the Phase 3 trial and is awaiting approval from FDA. The number of people in the Moderna trial was 30,000 people.
Once approved, all vaccines go into Stage 4 trial, which it stays in for the life of the vaccine. This way the CDC has a way for us to report side effects.
When you receive a flu vaccine, for example, the clinic will give you a Vaccine Information Sheet (VIS) form. The VIS sheet lists all possible side effects that you may experience. It is the same with Moderna. Once you get the vaccine, you will receive a list of possible side effects to watch out for with instructions on how to report them to the Centers for Disease Control (CDC). The VIS form will have the CDC phone number on it.
Watch for more details as they become available on the Daily Scoop, Facebook, and mailouts, etc.
---
What we know about Moderna's coronavirus vaccine and how it differs from Pfizer's
Wall Street Journal – FDA Finds Moderna Covid-19 Vaccine Highly Effective
NBC's Moderna's vaccine is highly effective, FDA says, clearing way for second vaccine
New York Times – Moderna Vaccine Is Highly Protective Against Covid-19, the F.D.A. Finds
CDC – What to Expect at Your Appointment to Get Vaccinated for COVID-19
CDC – Benefits of getting a Covid-19 Vaccine
CDC – Facts about Covid-19 Vaccines
New York Times – Here's Why Vaccinated People still Need to Wear a Mask
What is Covid vaccine made of? Scientist behind Pfizer and Moderna vaccine technology explains