Effective Tuesday, March 24,  our community is  off limits to non-residents.
The Tribe will be issuing vehicle stickers, 2 per household, that will identify you as having access to the community.
We will be blocking off access to the community with the exception of the main entrance. We will have Squaxin PD, or IEI Security posted at the main entrance to ensure only community residents, and SIT staff come onto the reservation.

The check point will be past the clinic, so tribal members who live off-reservation can still go there.
We encourage you to only go out of the community for essential items or doctors appointments.
We can not reiterate enough to isolate our Elders from younger kids. During this time please utilize facetime, or other virtual means to stay in touch with your family.
---
All Elders events are cancelled until further notice.
The Museum Library and Research Center is closed until further notice.
Little Creek Casino Resort has suspended casino operations through March 31
Hotel and Salish Cliffs Golf Club remain open
(Take-out food options may be available at specific locations)
Court for March 24th is cancelled.
Building Strong Families Through Culture is cancelled until further notice.
Lushootseed language classes are cancelled until further notice.
Freedom From Smoking is cancelled until further notice.
Shelton School District is closed through Friday, April 24.
Griffin School District is closed through Friday April 24.
Skookum Creek Tobacco Factory Store is closed until further notice.  You can still purchase product at a KTP store.
---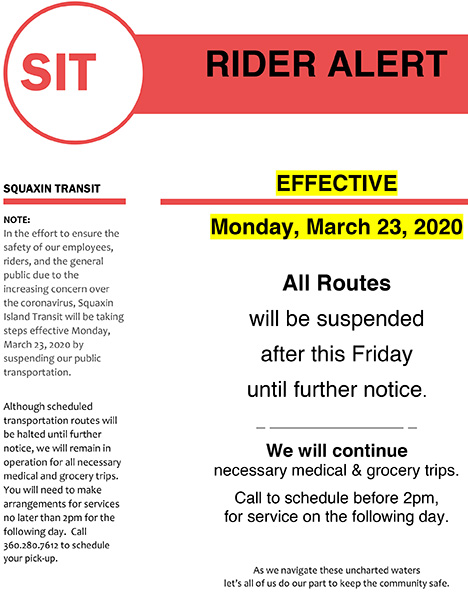 ---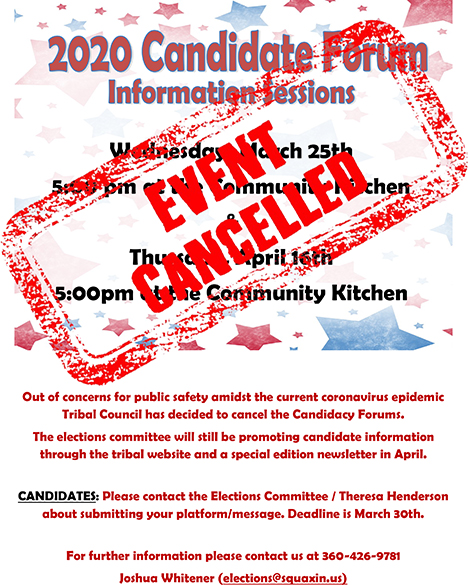 ---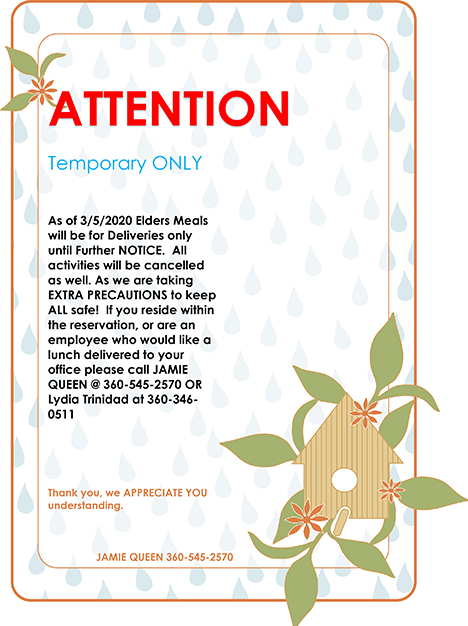 ---
Food Bank and the Coronavirus
Open 9-3 on Fridays
As the continued spread of the Coronavirus (COVID-19) has raised understandable concerns, we wanted to assure you that the health and safety of all is very important. Due to the Coronavirus outbreak, we will implement temporary measures, because nutritious food helps any illness to protect staff, volunteers and customers:
1. If a customer shows signs of illness, they should be asked to wait in their vehicle. Volunteers or staff can deliver their groceries to their car. If the client is unwell and used public transportation or walked, they should be asked to wait in a designated area at least 6 feet away from other (non-sick) customers.
2. The food bank will be conducting hourly "wipe downs" with sanitizing wipes, sprays or water bleach solutions This includes wiping down all hard surfaces, counters, door knobs, chairs, keyboards, signature pads & pens etc.
3. Staff and Volunteers should wash their hands with soap and hot water for a minimum of 20 seconds EVERY HOUR. (Sing Happy Birthday 2 times while washing for the proper time) Wash the entire hand including in between fingers and the back of hand. We will set an hourly alarm to remind all to start washing hands and to begin the "wipe down" process.
4. If any staff or volunteers are feeling ill, GO HOME IMMEDIATELY.
5. We will have hand sanitizer available.
The most effective way to stay healthy and minimize the spread of any infectious disease including seasonal flu, is to follow basic health practices, including washing hands thoroughly, covering up coughs/sneezes, and staying home when we are not feeling well until we are symptom free. It is important to share information that can help our entire community stay its healthiest.