Community members seeking services call (360) 432-3906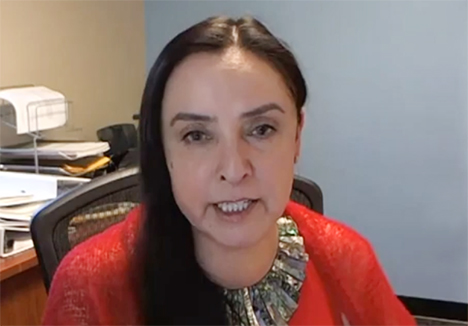 Family Services Director Charlene Abrahamson, Parks and Recreation Director Janita Raham and Savannah Fenton, Child Development Center, talk about food services available during Covid-19 (May 12)
---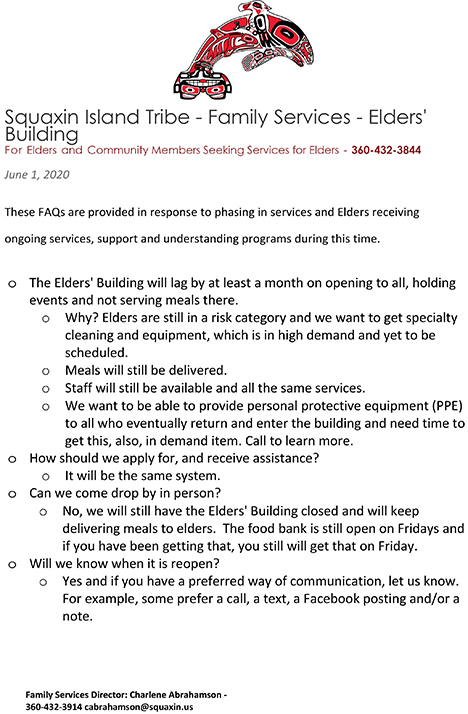 ---
These FAQs are provided in response to questions raised by tribal and community members about services and programs.
Grant and Other Funding
What can do we qualify for?

Funds are approved for those eligible for the nutrition and supportive services, emergency and general assistance (GA), Domestic Violence, TANF, VR, some housing, certain bills, and food.
Not everyone will qualify for assistance, but we can also refer to other services.
You may not have qualified before, based on your work and other conditions, and qualify now. Please call and check.
The usual job search and community service requirements for GA are eased, and we do not expect people who are eligible to break the shelter in place to job hunt in person. Call to learn more.

How should we apply for, and receive assistance?

Call our main number (see above), or most numbers of staff you're used to working with. These will go directly to their cell phones, while we work from home and other tele-working protocol established at this time.
Much of the paperwork and distribution of funds are being done electronically and with minimal face- to-face contact, for everyone's safety.
Distribution of assistance will occur at set times, to avoid large groups of people and minimize unnecessary contact. You will be notified via whatever contact information you provided about the hours you can collect resources. Staff will be wearing masks and other recommended protections. If you do not come at that time, vouchers and similar will be mailed.
Your first call will be to gather information. We will look at all our programs to try and find a fit. So after the initial intake call, we may still have to gather more information. Please be patient with the process.

Can we get childcare cost assistance?

If you are continuing to work and eligible. This will be determined on a case-by-case basis. We are hearing that allowances/waivers could be made. Contact us to find out It's worth it to call or email us to check. Finding childcare could be challenging right now and there are considerations for family babysitting or another willing person. Again ,please get in touch to see if we can pay someone we wouldn't normally pay. There will be paperwork, of course.

Can we come drop by in person?

No, we closed our Elders' and other building for safety and are delivering meals to Elders. The food bank is still open on Fridays and, if you are not a resident of the reservation, let law enforcement know you are going to the food bank. Pick up your box or bag and then leave via the same way.

Can we use certain funds when we are not working, not looking for work or going to school?

Yes, certain funding requirements have been waived at this time. You may still need to provide receipts and some other steps, but there are fewer restrictions on some funding sources. For example, you are not required to go out for non-essentials in this extended isolation period, or do tasks that are not in line with sheltering in place and social
Family Services Director: Charlene Abrahamson – 360-432-3914
Family Services has the following plans in place, which is all dependent on essential staff staying well and with other departments we work closely with – safety will be the first priority, as well as being able to keep access to supplies.
We encourage everyone to call and see what you may be eligible for. We have several different programs and, due to current circumstances, there may be services available that you think you cannot get. The front desk line – (360) 432-3906 – will go to a staff cell phone and be answered as though we're in the building.
Elder Programs
All Elders are getting a lunch delivered and homebound elders/vulnerable adults get shelf-stable foods on Friday, for the weekend. Jamie Queen can be reached at (360) 545-2570.
Indian Child Welfare (ICW) Programs
ICW will continue with investigations only, based on reports received from community or other agencies/tribes. Therefore, no supervised visits or home studies will occur. If communication with the court is necessary, this can be done telephonically and electronic documentation too.
TANF Programs
TANF staff will still be able to get the usual payments into the system, providing the finance system continues operating. A day and hours will be given for picking up checks and other incentives at the office. People will need to arrive to collect at the times we will announce, since the office will not be open outside these hours. We will determine starting new clients on a case-by-case basis, based on safety for both clients and staff. The focus will be on housing and food.
Food Bank
The Food Bank operates on Fridays. Pre-made boxes/bags will be prepared to go directly to your car to reduce social interaction.
Crime Victims, Domestic Violence Services
Crime victims, advocacy, community healing and domestic violence services will provide resources wherever possible related to food, bills, and communicating with other agencies to advocate for telephonic hearings, for example. We cannot provide any transportation for the time being.
Childcare Payments, Vouchers for Gas and Clothing
Childcare payments, for those who are still working, will continue to be paid. We will be submitting all required paperwork, etc. to Finance at both the Tribe and SPIPA to get payments and other incentives out. There will be fewer distributions of vouchers for gas and clothing assistance, because these things were assisting with appointments for children, work, classes, and other usual activities that are now cancelled, and since we have to meet grant requirements. If you live off-reservation and have been receiving services, these will continue. Any potential new clients, please call and we will assess your needs with you.
Essential staff will have calls to their desks go directly to their cell phones.
Charlene Abrahamson, Director (360) 432-3914 |
---