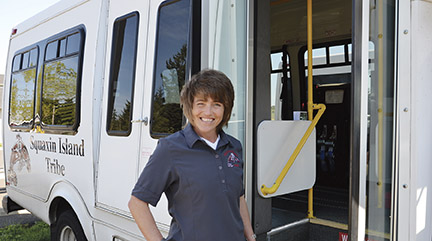 Effective August 25, 2020, Squaxin Transit modified our schedule to coincide with Mason Transit (MTA) and Grays Harbor Transit (GHT).
For the past week, we tested the changes you will notice on the SIT schedule.
Our community, and those we serve off the reservation, have received it well.
Reminder: Passengers are required to wear a mask at all times.  If you are ill, or experiencing any type of symptoms, we request that you please stay home!  If you need transportation to the Health Clinic due to any type of illness, please call for special transportation.
If you have any questions, give us a call at (360) 280-7612 or (360) 789-5936. If you are unable to reach us, we are either driving or assisting passengers.  Please leave a message and we will return your call at our earliest opportunity.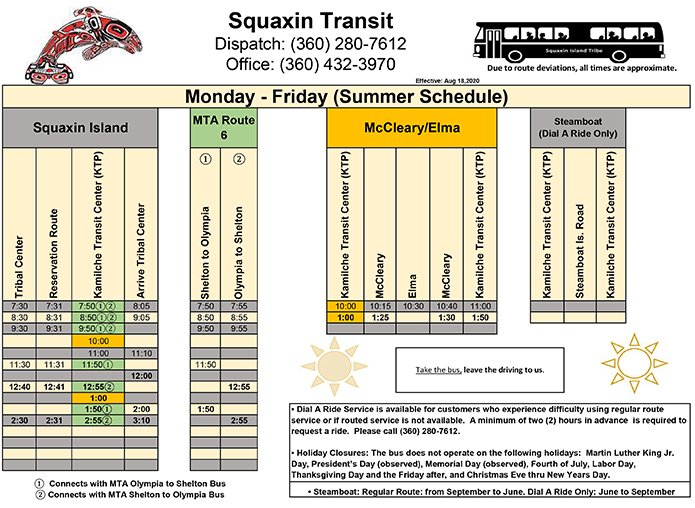 Kids and Parents
Normally during the month of August, we prepare our routes and reach out to parents for the new school year.
However, this year is truly a change since schools are not opening, due to Covid-19,
We miss preparing our school routes, the hustling and bustling through the reservation picking the kids up along with the energy and excitement of kids getting on the bus and going back to school.
We want to thank all the parents in our community who entrust their kids to us. We would like to say THANK YOU for giving us the joy of being a part of your life.
For the last 20 plus years, it has been a pleasure to serve you in providing a safe ride for your kids to and from school. We will miss you and the kids. Once COVID- 19 is under control, we will see you and serve you again. PCD/SIT Transit hopes that when things move in the direction of normalcy, and the kids can board buses going to classrooms, we will be there for you.