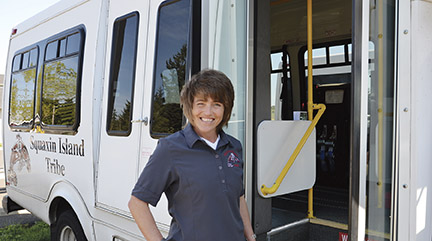 Effective August 25, 2020, Squaxin Transit modified our schedule to coincide with Mason Transit (MTA) and Grays Harbor Transit (GHT).
Reminder: Passengers are required to wear a mask at all times.  If you are ill, or experiencing any type of symptoms, we request that you please stay home!  If you need transportation to the Health Clinic due to any type of illness, please call for special transportation.
If you have any questions, give us a call at (360) 280-7612 or (360) 789-5936. If you are unable to reach us, we are either driving or assisting passengers.  Please leave a message and we will return your call at our earliest opportunity.