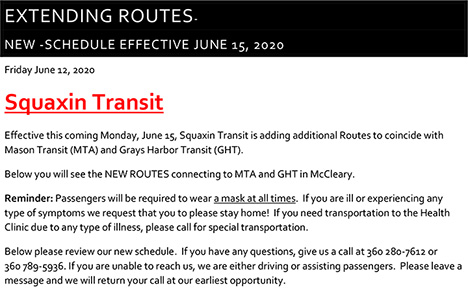 ---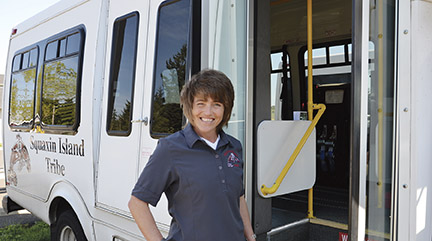 Squaxin Island Transit has Route Deviation available to our passengers throughout the day on our fixed routes. This allows the routes to deviate in order to accommodate the needs of more passengers and to ensure all individuals have access to public transportation service that best meet their needs. In order to take advantage of a route deviation, the passenger must arrange it in advance in order for us to fit it into the schedule.
Requesting a Route Deviation
Anyone can request a route deviation. You can schedule a pick up deviation request by calling dispatch at 360 432-3970 or 360 280-7612 in advance of your requested pickup. Riders who need a deviation when dropped off can request a deviation from the driver when boarding the bus. All attempts will be made to meet the needs of the passenger as long as it is within 2-3 miles off the route, does not jeopardize the needs of other passengers and we are able to make route connections.
Deviation requests will be denied if the driver determines it will compromise the safety of the driver, other passengers, or damage to equipment.
Rider Alert Squaxin Transit Service
Effective March 31, 2020, Squaxin Tribal Transit is providing food bank and grocery delivery as well as prescription drop off/pick up for tribal members and HOMEBOUND individuals living within our service area within ten (10) miles of the Squaxin Island Tribe Reservation. We also provide transit services for life sustaining medical appointments.
Grocery stores that offer online purchases for pick-up may include Fred Meyer, Safeway, and Walmart.
This service is TEMPORARY and implemented with the support of the Washington State Department of Transportation in response to COVID-19 outbreak.
Like others, we are navigating through the unknown and are providing transportation services to our tribal members as well as our rural community.
Your patience at this time is greatly appreciated.
If you live within our service area, and in need of food or medications, please contact our Transit Coordinator, Tammy Ford at (360) 789-5936 or (360) 432-3888.
We will update any changes on our Squaxin Island Tribe website and in our Daily Scoop.
As a community, we cannot reiterate enough to isolate our Elders from younger children. During this time, please utilize Facetime, or other virtual means to stay in touch with your family so we can get through this as soon as possible.