Running for Tribal Council Member 1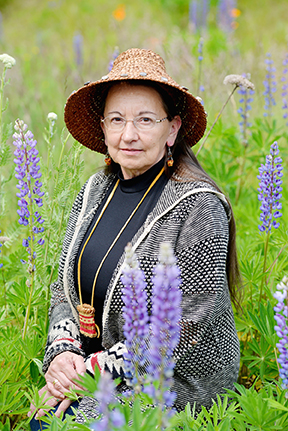 Nominated by: Lyssa Wier
I'm Sally Brownfield. Most of you know me as Sis. My parents were Sally (Brown) & Kenny Selvidge Sr. My grandfather was Dan C. Brown. My late husband, Mike Brownfield, was also enrolled Squaxin.He passed in 2005., We had two sons, Jess and Toby. Toby passed away in 2010. Our families have lived at Kamilche Point for several generations.
I am running for Council Position 1.
It is essential that our Tribe have strong leadership and a governing body that can, and will, work together for the benefit of all of its members. The council must be responsible and be fully informed and transparent in making decisions that are unbiased and will serve today's needs as well as the needs of future generations of the Squaxin Island Tribe. There has to be balance in creating jobs and creating government revenue to provide for infrastructure and services, while at the same time preserving and passing on our culture and traditions.
I worked for our Tribe in the early 1970's as an accountant and later as a CHR before going back to school to become a teacher. I taught at Wa He Lute Indian School, Hood Canal School, and Washington State University and worked for the Office of the Superintendent of Public Instruction. I have always been involved in our community and with Native issues, following legislation and testifying for change. I've always been ready to give a hand.
I came back to work for the Tribe in 2009 and worked in Executive Services as Community Education Advocate. Besides my work with the community, I serve and represent Squaxin Island Tribe on the executive team of the Tribal Leaders Congress on Education, Washington State Department of Children, Youth and Families Tribal Policy Advisory Committee and Indian Policy on Early Learning  (Chair), University of Washington Indigenous Education Board, OSPI Native Education Advisory Committee, and Tribal Education Departments National Assembly Board. I represent Northwest Indian Fish Commission on the Pacific Education Institute. In 2015 I was elected to the Shelton School Board of Directors and reelected in 2017.
These positions have taught me to be open minded, to take in ideas and perspectives of others at the table, to consider how decisions may affect those not at the table (getting their input before taking action), and the importance of working together as a team.They have also given me experience in creating policy and procedures, working with very large budgets, asking hard questions, and negotiating. I am no stranger to the state and federal government systems. I have helped create legislation and met and testified to legislators on many issues.
Our Tribal Council tasked me with working to improve and find support for our Child Development Center. I started with outreach and discussions in the community, doing surveys, and serving on the Child Development Center Board of Directors. Over the past few years I presented many opportunities to the CDC board and Tribal Council for programs to meet the needs of our community, like the state ECEAP program and federal Early Head Start opportunities. I pushed for an outdoor preschool program. These programs are currently bringing in needed funding and high quality programs for our children and families.
Last year I got the biggest grant the tribe has ever received – nearly $8 million  for Early Head Start, serving qualified prenatal to three year-olds. This includes funds for additional facilities at the Child Development Center. The operations budget is for a five-year period, which is renewable as long as we stay in compliance.
I feel I have the experience, heart and competency to serve our community in this capacity and look forward to representing you on the council.