A Free Public Transit Service of the Squaxin Island Tribe
Transit Direct: 360-432-3970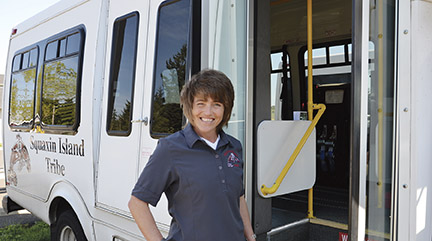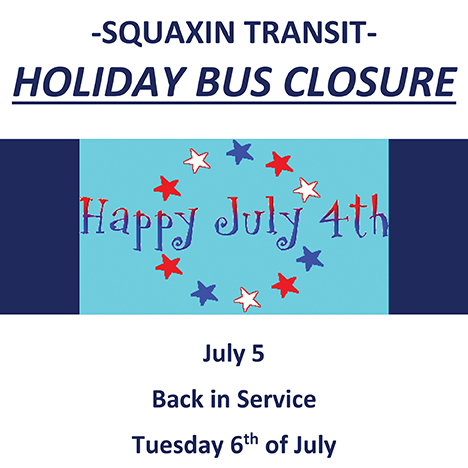 Americans With Disabilities Act Policy 2019
---
Effective August 25, 2020, Squaxin Transit modified our schedule to coincide with Mason Transit (MTA) and Grays Harbor Transit (GHT).
For the past week, we tested the changes you will notice on the SIT schedule.
Our community, and those we serve off the reservation, have received it well.
Reminder: Passengers are required to wear a mask at all times. If you are ill, or experiencing any type of symptoms, we request that you please stay home! If you need transportation to the Health Clinic due to any type of illness, please call for special transportation.
If you have any questions, give us a call at (360) 280-7612 or (360) 789-5936. If you are unable to reach us, we are either driving or assisting passengers. Please leave a message and we will return your call at our earliest opportunity.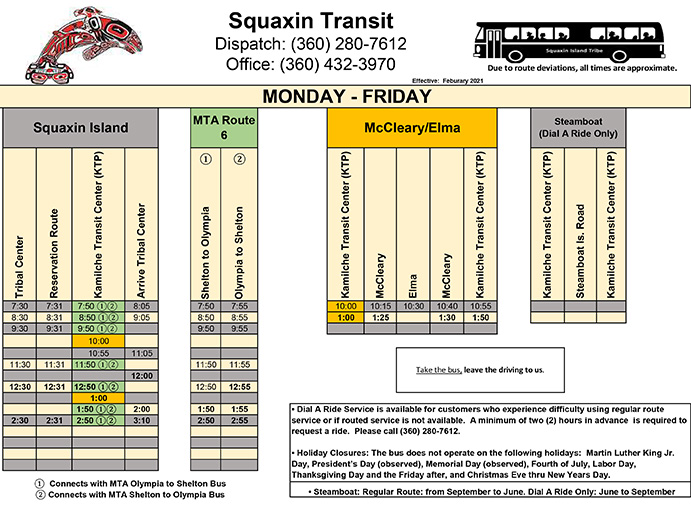 Kids and Parents
Normally during the month of August, we prepare our routes and reach out to parents for the new school year.
However, this year is truly a change since schools are not opening, due to Covid-19,
We miss preparing our school routes, the hustling and bustling through the reservation picking the kids up along with the energy and excitement of kids getting on the bus and going back to school.
---
INCLEMENT WEATHER IMPACT TO TRANSIT
The safety and well-being of our community members are of the utmost importance to Squaxin Island Tribe.  I would like to take this opportunity to inform and remind you of how to obtain information about Squaxin Transit Services during adverse weather conditions, along with what you can expect when we are impacted.
Transit:  During adverse weather conditions, Squaxin Island Transit will at a minimum following the lead from Mason Transit Authority regarding levels of service. Due to the rural area that we cover, we may run an alternate schedule or shut down service when Mason County Transportation is running minimum routes.
While every weather event is different, Squaxin Transit will follow these general guidelines:
• If Mason Transit shuts down Route 6 (Shelton/Olympia), Squaxin Transit will not operate.
• All shuts downs will be at the discretion of the driver.
• If Shelton School District is operating on a late start or is closed due to weather, Squaxin Transit will operate on a snow route (no service on Kamilche Pt. or Bloomfield Roads, no Elma/McCleary run). Buses will run between the Reservation and the Transit Hub only.
• If Griffin School is on regular schedule when Shelton Schools are late or closed, off-reservation parents can take their children to the Transit Hub for the morning Steamboat Island run.
• If Squaxin Transit has to close down service during the day, we will record a message on the Squaxin Transit phone number, 360-432-3970/360-280-7612, and notify MTA, Grays Harbor, Griffin School and Squaxin Island Child Development Center. Along with posting Facebook to the community on the Emergency Operations Center and Safe Streets.
• To confirm whether Squaxin Transit Services is running please call the Squaxin Transit phone number at 360-432-3970/360-280-7612. Squaxin Transit drivers will update the message as necessary if changes to the level of service are needed to ensure driver and rider safety.
• To find out information on Mason Transit you can listen to KMAS radio station or check the Mason Transit's website at www.masontransit.org and click on "Rider Alert" for updates that may affect their service.
I hope this helps minimize the disruption and potential confusion that you may experience during adverse weather conditions.  If you have any questions, please don't hesitate to give Tammy Ford, Transit Coordinator, a call at 360 789-5936.
Sincerely,
Pamela Hillstrom
Program Services Manager