Each summer Tribal youth are encouraged to apply for a number of positions made available through Tribal government, Island Enterprises and Little Creek Casino. Some examples of jobs are reception desk clerk, seafarm worker, KTP stocker and casino landscape assistant.
So far, the Tribe has been able to gain employment for all youth who apply and follow through with their job requirements, including attendance at scheduled classes and being drug and alcohol free. Some of the youth have been able to keep their jobs even after school begins again in the fall.2017 Summer Employment
2017 Summer Employment
Seeking Squaxin Youth, Ages 16 – 21 Who Desire Summer Employment
It's that time of year again to begin recruitment of Squaxin Island Tribal Youth who desire summer employment with Squaxin Island Tribe. If you are a Squaxin Tribal member between the ages of 16 and 21 and are interested in working for six weeks this summer, please contact Niki Ho in Human Resources to get an application.
You must submit an application even if you participated in the program last year.
The six weeks of employment will begin on July 6, 2017 and will run through August 11, 2017.
If you would like assistance with completing your application, writing a cover letter or doing a resume, please attend one of the application workshops scheduled to take place on Tuesday, May 16, 2017 and Thursday May 25, 2017 from 3:00 – 5:00 p.m. in the Tribal Center Training Room.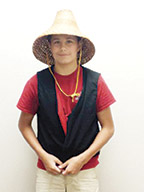 Please note all applicants for Little Creek Casino Resort will be asked to attend an additional orientation workshop to complete the licensing process.
Your application must be submitted by Thursday, June 1st 2017 so that we have time to find positions for all who complete the application process. Applications received after June 1, 2017 will be considered only if positions are still available.
Squaxin Preference will be exercised in the hiring of these positions in accordance with the Tribe's Personnel policies. If you have questions about this program, please contact Niki Ho at (360) 432-3845.
---
2017 Stepping Stones: Youth Pre-Employment Training Program
For Squaxin Youth AGE 13-15
Youth will participate in group projects, which promote the development of accountability, work ethics, and pride in the community. This hands on model will encourage tribal youth in learning a multitude of transferable skills they can apply to later employment for Squaxin Island Tribe or elsewhere.
If you are a Squaxin tribal youth who is going to be 13 – 15 years old by July 1, 2017 and are interested in participating in this program, please call Steven (360) 432-3865 in Human Resources to leave your contact information.  We will want to provide you with additional program information.
Please be ready to provide the following:
•    Name
•    Address
•    Phone number
•    Date of birth
•    Squaxin Island Enrollment number
•    T-shirt size
To assist us with the planning and to ensure you get a t-shirt, please stop by or call by June 1, 2017. Employment Applications are not required for Stepping Stones. Contact after June 1, 2017 may result in being put on a waiting list with consideration only if there is still available space.
Parents: To provide an initial opportunity for training in the employment application process, please encourage your youth to call or stop by on their own, rather than calling on their behalf.