---
Pool Hours
Sunday
Elers Aerobics: 10:00 a.m. – 11:30 a.m.
Open Swim: 12:00 – 1:30 and 3:30 – 6:00
Monday
Closed
Tuesday
Closed
Wednesday – Saturday
Open swim:
11:00 a.m. – 1:30 p.m.
3:30 p.m. – 6:00 p.m.
ExceptSaturday, March 27th: Open Swim 4:30 – 6:00 p.m.
Whole month of March – wear green and pick a prize! March 20th dive for shamrocks to win a prize!
March 31st – find the pot of gold and win a prize!
---
School Year 2020-2021 Food Program:
We are a meal site through USDA. We offer a breakfast and lunch Monday through Friday for any youth ages 1-18 years. Our program serves the Squaxin Island Reservation and we have a drop and go site at the Squaxin Island Child Development Center for families in the Kamilche Valley.
We provide a weekly menu for families and any cooking instructions for the breakfast items. To ensure the quality of the meals – we do not assemble all the lunches but provide all components necessary to make a meal daily.
We keep our Squaxin Island Parks and Recreation Facebook page up-to-date with any information regarding meal service.
We request that families notify us if they are not in need of a meal for the day or an extended period of time.
Families can register to receive meals by contacting Jerilynn Vail-Powell at 360-432-3992 or jvail@squaxin.us
"This institution is an equal opportunity provider."
---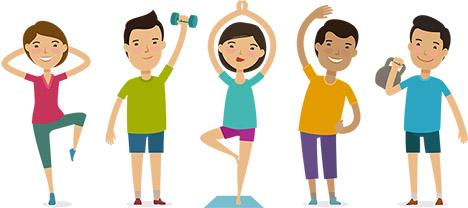 Effective 11/17/2020
The Fitness Center is having some changes to the schedule. Access to the Fitness Center is still by appointment only. The Fitness Center is only open to residents who live on the reservation. The last appointment will be scheduled at 5:30 p.m. and must be completed at 6:30 p.m.
Monday
7:30 a.m. – 6:30 p.m.
Tuesday
7:30 a.m. – 6:30 p.m.
Wednesday
7:30 a.m. – 6:30 p.m.
Thursday
7:30 a.m. – 6:30 p.m.
Friday
7:30 a.m. – 6:30 p.m.
A staff member will meet you to let you in the facility (they will wait no more than 15 minutes past your scheduled appointment time).
We will be allowing four scheduled people in the gym at a time.
When you arrive, you must change out your street shoes into your gym shoes and will have to wash your hands with soap and water prior to beginning your workout.
Masks must be worn upon entering and exiting the building
All uses will need to practice social distancing while in the fitness center. Do not use a piece of equipment directly next to another user.
Wipe down equipment immediately after use.
We appreciate your help in keeping our community safe and healthy.
For questions please contact Janita Raham, Parks and Recreation Director at (360) 430-3869