Honoring Our Connection with the Earth
Borrow Recycling Bins
Hosting an event or party? Consider using Clearstream bins to help you recycle. Their collapsible nature makes them easy to set up, and the see-through bags help maximize recycling. See the info sheet below for more details.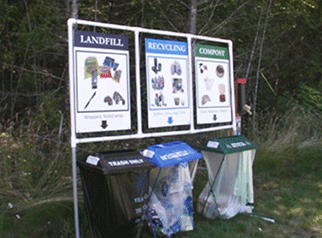 Utilize the Green Team
Need help recycling? The Green Team's here to help. The Green Team will help you recycle in the workplace, at your home, or at your event. Contact Monica Nerney at  or 432-3907. Interested in joining the Green Team? Visit the Green Team page to learn more.
Borrow Supplies for Your Event
Prevent waste at your event by borrowing tablecloths and water coolers. The Solid Waste and Recycling Program has 25 blue rectangle tablecloths for you to use. They provide a uniform and classy look and prevent the waste of disposable tablecloths.
You can also prevent waste from disposable cups. Provide reusable cups and borrow our water coolers for your beverages. We have four 5-gallon water coolers available for loan. Contact Monica Nerney for more info.
Curbside Recycling for Residents
When you sign up for curbside recycling you will receive a  95-gallon container designed for mainstream recycling. You can put all of your aluminum, tin, paper, cardboard, and plastic in this one container for every-other-week pickup. If you have multiple garbage containers, you may save money by recycling.
For pricing, and to sign up, contact Pamela Hillstrom at 432-3951 or .
Garbage Service for Residents
Curbside garbage pickup is required for all residents living on the reservation. You choose from a combination of 35-, 65-, or 95-gallon garbage totes to meet your household garbage needs. Please place your garbage tote at the curb before 6:00 a.m. on Friday.
You may save money by opting for a recycling tote and downsizing or eliminating one or more of your garbage totes. For more information, contact Pamela Hillstrom at 432-3951 or .
Bulky Recycling Pickup for Residents
Some items, such as lawn furniture, appliances, and vehicle parts are recyclable but too bulky for curbside recycling. In July, just before the large community dumpsters come in you can recycle these items at the curb. The next bulky recycling pickup will be in July 2015. We will send out notices in advance.
Recycling for Government Offices
Recycling services are available for government programs. You can recycle aluminum and tin cans, paper, cardboard, plastic bottles and jugs, and glass. Contact Monica Nerney () or Pamela Hillstrom () for more information.
Additionally, government programs can recycle ink toners and cartridges.  Place them back in their original bags and return them to Monica Nerney (360) 432-3966.
Recycling for Businesses
Tribal businesses can sign up for recycling with Mason County Garbage and Recycling.