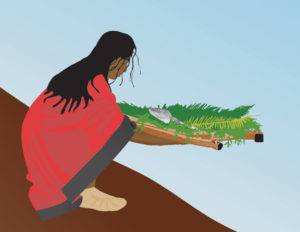 There are many fun and educational activities offered by the Squaxin island Tribe. You can try your luck at Little Creek Casino Resort after a day of golf at one of the highest rated courses in the country, Salish Cliffs. Top the day off with a luxurious spa treatment and a delicious meal at one of our fine restaurants.
You could reserve a canoe or kayak trip through Kamilche Adventures, or visit the Squaxin Island Tribe Museum Library & Research Center, Home of Sacred Belongings, a living treasury of cultural items and activities, including rare artifacts from a 500 year-old village site.
First Salmon Ceremony by Tribal Member Jeremiah George
This is one of seven massive art pieces found in the museum's Great Hall of the Seven Inlets.