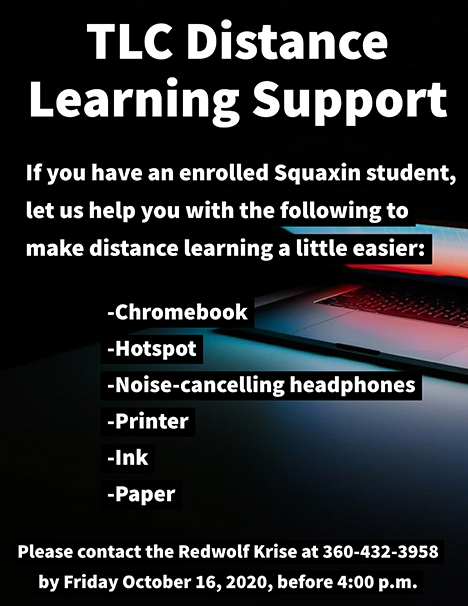 ---
Child Care Development Center
Tribal Leadership was tasked with making the very tough decision of whether or not to open our child care center. We received nearly 50 comments from our community, from Facebook posts, FB messenger, emails, and phone calls. Thank you to everyone who took the time to send your thoughts on this very important decision.
Council decided to postpone opening the center at this time and to readdress the situation in a couple of months.
Unfortunately, we have recently learned of some emergent needs that must be addressed before allowing the building to be used safely.  We have found some issues with the septic lines that need to be repaired, the playgrounds need to be completed and we have found issues with the roof (leaks). We will be bringing in someone to complete a thorough building inspection, create a funding plan, then see the work through.
During this time, we will revise and tighten up and finalize the Covid policies for the child care center and create a staffing and opening plan based on the feedback from the community and health officials as we follow the covid-19 developments. We will keep you all informed as we move forward. The health and safety of our children and families is of the utmost importance to all of us on Council.
Please reach out for any questions or concerns.

---
Beyond Tutoring Support in Distance Learning
By Gordon James, Education Director
As Squaxin families and students confront the challenges of distance learning, some are also challenged with adequate internet service and being unable to print assignments when needed.  As the Education Department looks for solutions, we want to hear from Squaxin families to learn more about your needs.  Please reach out to the Education Department to let us know if any of the following apply to you:
Internet service isn't available at my home.
Internet service is available at my home but I can't afford the service.
I have internet service at home but not enough bandwidth for multiple children to work online at the same time.
I have internet service at home through a mobile hotspot.
I have other challenges in accessing the internet at home.
I need to print schoolwork for my child but don't have a printer.
I have a printer to print schoolwork for my child but can't afford printer ink.
I have other challenges in printing my child's schoolwork.
Please share your needs in any of these challenges by emailing one of the following people:
Or, call Mandy Valley at (360) 432-3882 to let her know which of these apply.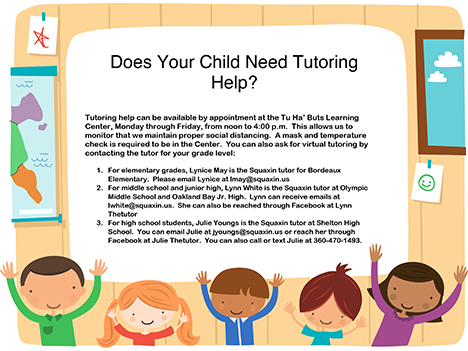 ---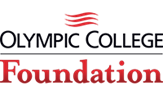 I am re-advertising seven scholarships for use during winter and spring quarters of the 20-21 school year. These scholarships either failed to attract qualified applicants during the regular cycle or were declined by the recipient and could not be re-awarded.
Anthony's Restaurants Culinary Arts Scholarship
$700.00
culinary student, full-time (12 hours), minimum 2.5 GPA
Glen H. Butler Memorial Scholarship
$400.00
Environmental field/forestry, minimum 2.5 GPA
Kitsap Sun – Scripps Howard Journalism Scholarship
$1,000.00
Journalism major, full-time (12 hours), minimum 3.0 GPA
Lawrence I. Gosser Memorial Scholarship
$600.00
Shelton HS grad, Mason County resident, full-time (12 hours), minimum 2.5 GPA
OC Prof-Tech/BI Rotary
$1,000.00
BI connection, prof-tech major, full-time (12 hours), minimum 3.0 GPA
Raymond Schwietering Memorial Scholarship
$1,300.00
OC-Shelton student, attended Shelton HS,  full-time (12 credits), minimum 2.5 GPA
William and Sandra Walgren Science Scholarship
$1,000.00
2nd-year student (at least 36 credits earned), studying science, full-time (10 credits)
Here's the planned schedule:
Applications open 10/9-10/25
Volunteers review applications 10/27-11/10
Committee meets between 11/11-11/13 to determine awards
Award recipients notified by 11/16
---
NAFOA Institute Career Basics
The NAFOA Institute Career Basics (formerly The NAFOA Academy) is an online career readiness and personal finance program designed for 18-26-year-old Native American youth. The program offers coursework that provides opportunities for participants to improve career readiness, personal finance skills, and advance their understanding of issues impacting tribal economies.
Career Basics is free and open to eligible youths. Coursework within this track are specifically designed to prepare youth for the NAFOA Leadership Summit, an exclusive one-day event with seminars led by top executives, managers, and tribal leaders for one day prior to a NAFOA Conference.
FOR MORE INFORMATION: Visit www.nafoa.org/institute/career_basics or contact Bettina
Gonzalez at
Click the play arrow above to view a video congratulating the graduates
---
The Tu Ha' Buts Learning Center provides services to Tribal members and descendants that include youth activities, summer recreation, tutoring/mentoring, school counseling and higher education awards. Special emphasis is placed on addressing truancy issues, educational barriers and the importance of providing prevention activities that benefit tribal youth.
Youth social activities include holiday celebrations, recreational activities, field trips and intertribal gatherings. Tribal youth also participate in youth conferences, a reading program and summer school.
Youth prevention activities focus on the development of social skills, anger management, grief and loss issues and improving self-esteem.
Cultural activities include campouts on Squaxin Island and traditional arts and crafts classes.
---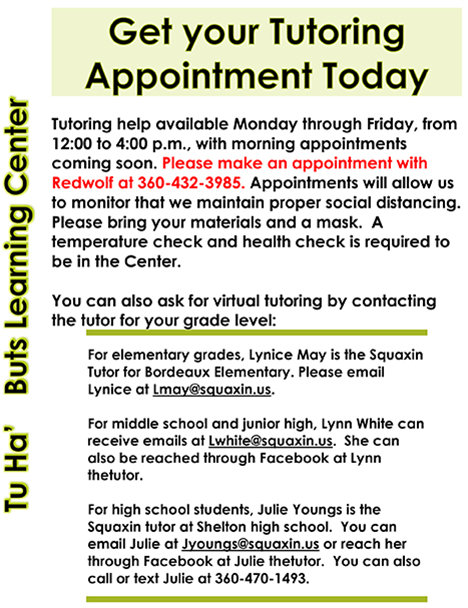 ---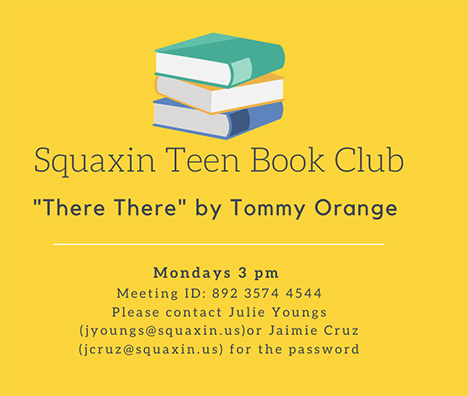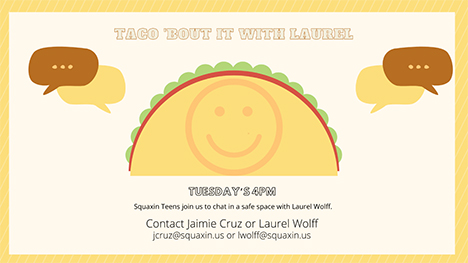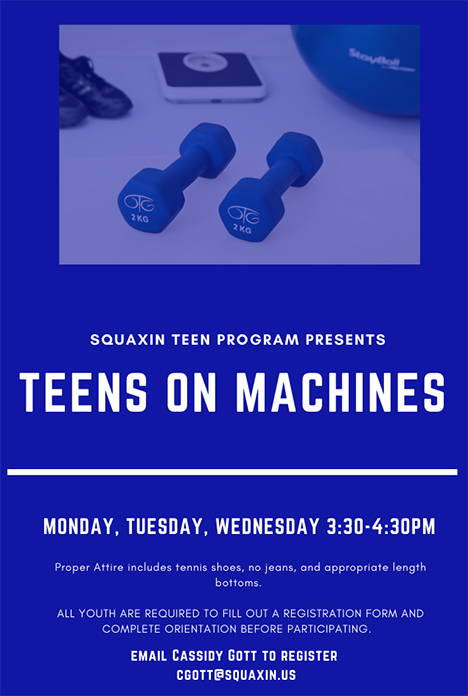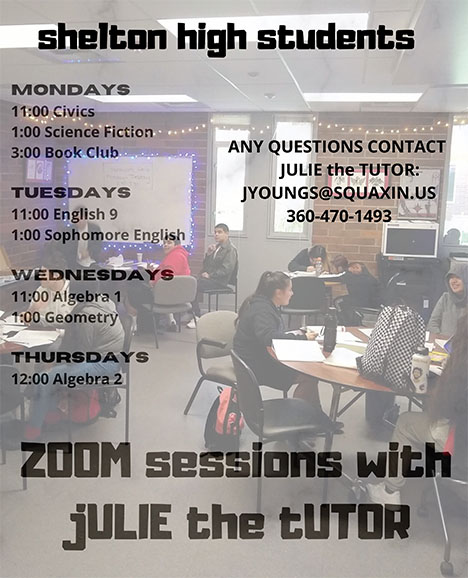 ---
Higher Education
Education Information Release Form
---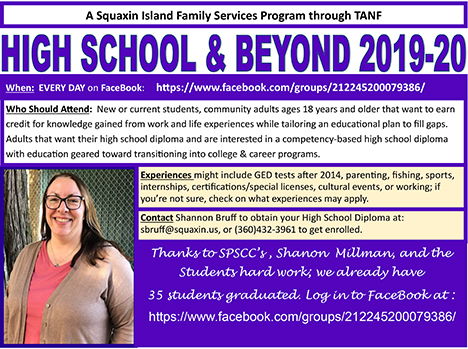 ---
Olympic College
---
OnlineSchools.org Guide to Financial Aid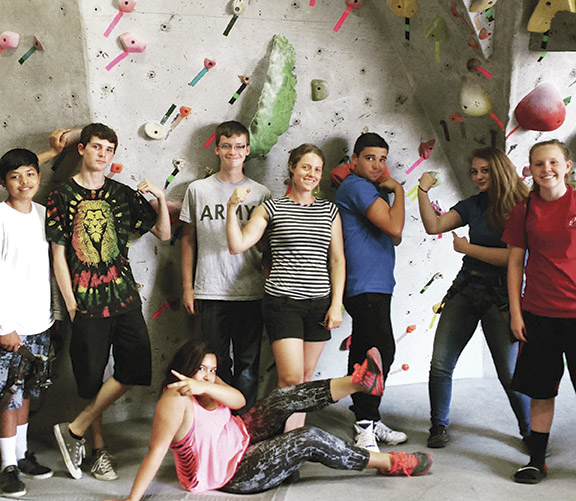 Scholarships for Native American Students
Scholarships.com of Native Americans
Federal Student Aid for Military
Homeland Security Careers Honors Program
Homeland security careers Office of Public Affairs Internship Opportunities
Homeland Security for Students
Minority Student Leadership Program
Scholarships and College Guide for Native American Students
Passport to Careers  (The 2018 Legislature passed Senate Bill 6274, establishing the Passport to Careers program to help more Washington students—specifically, those who have been in foster care or who have experienced homelessness—prepare for careers.
Indian Health Service Medical Career Scholarships