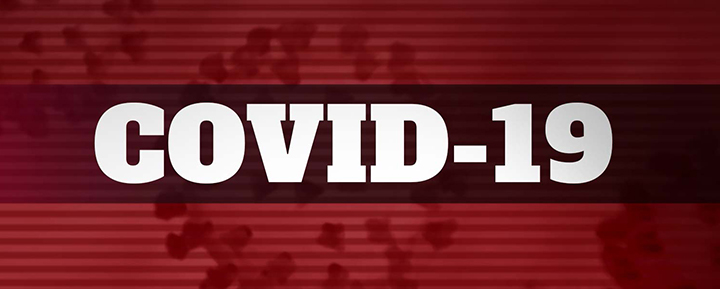 Squaxin Island Tribe has declared a state of emergency in an effort to protect the community against coronavirus COVID-19.
Please be aware that we are doing everything possible to keep you safe and up-to-date.
---
Community,
Effective Tuesday, March 24,  our community is off limits to non-residents.
The Tribe will be issuing vehicle stickers, 2 per household, that will identify you as having access to the community.
We will be blocking off access to the community with the exception of the main entrance. We will have Squaxin PD, or IEI Security posted at the main entrance to ensure only community residents, and SIT staff come onto the reservation.
The check point will be past the clinic, so tribal members who live off-reservation can still go there.
We encourage you to only go out of the community for essential items or doctors appointments.
We can not reiterate enough to isolate our Elders from younger kids. During this time please utilize Facetime, or other virtual means to stay in touch with your family.
---
Per capitas will be mailed
---
Squaxin Island Health Clinic approach to management and testing with regard to concern for COVID-19
Patients with mild symptoms and no history of exposure: (Example: cough without fever or shortness of breath)
Social distancing
No need to come in to clinic
Patients to stay home, rest and stay hydrated
Patients with no known exposure but concerning symptoms: (Example: cough, fever, shortness of breath)
Social distancing
Present to clinic for evaluation including testing to rule out influenza and strep and, if necessary, refer out to Kaiser or the emergency room for COVID-19 testing
Rest and stay hydrated
Patients with a history of exposure to confirmed COVID-19 and concerning symptoms:
Present to clinic for evaluation including testing to rule out influenza and strep and, if necessary, refer out to Kaiser or the emergency room for COVID-19 testing
Hospitalization, if indicated, otherwise, self-quarantine for two weeks
Rest and stay hydrated
All patients presenting to clinic with ANY respiratory symptoms will be masked and immediately moved to an isolated examination room.
As the situation changes this process is subject to change as well.
---
Clinic Approach to Testing for COVID-19
If we believe we have a patient that meets the criteria, we will take the next steps to get that patient tested. We currently are screening patients prior to arrival via phone. When they call in, we are asking questions regarding symptoms. If the receptionist is uncomfortable with the answer, she will transfer the phone call to the nurse and they will triage further. Staff has been instructed that, when we have a patient who needs to be seen and there is a concern regarding the contagion issue, we will ask meet them at the back door and have them place a mask on. They will then be escorted to a room and the door will be shut. The nurse will have the correct protective equipment on when she meets the patient.
---
New way of picking up your medications – Pharmacy Pickup until further Notice
When you have an appointment with the provider
Either in person or Telehealth
1.  Receptionist will get cell phone number and email address from patient
2.  Provider- Notify Pharmacist – Runner – Patient
Patient call in Rx refill
1. Patient calls in for refill; Pharmacist tells the patient to call back when they are in the clinic parking lot; wait in the car and we will deliver the Rx
2. Pharmacist – Runner when Rx ready for pickup
3. Runner will take medications to patient cars.
4. Runner will relay pharmacy messages to patient
5. Patient to call pharmacist for counseling if Rx is new
Please call Pharmacist to check and see if your medication is ready.
Thank you for your patience at this time.
---
COVID-19 Response from Outside Organizations
---
---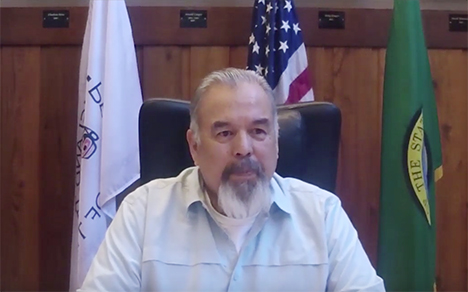 Squaxin State of the Tribal Community Address
---
Tribal Council received a recommendation from the Election Committee to postpone the May 2nd General Body meeting to June 27th. The Council approved the motion to reschedule the General Body meeting to June 27th.
---
FedEx and UPS
If you live on the reservation and are expecting a package from FedEx or UPS, those packages are now being delivered to the police department due to the checkpoint.
Please call Kim at 432-3828 and she will let you know if you have a package.  If you do have a package, come to the police department and call to let her know you are there. She will place the package on the front porch where you can get it.
This system will be in place Monday thru Friday 8:00 a.m. – 4:00 p.m.
If this system changes, you will be notified asap.
---

Island Enterprises is doing their very best to follow social distancing.  As of Monday, March 23, the front door will be locked.
Elders checks will be available for pickup at IEI on their regular pickup date.
Please ring the bell and the check will be brought out to you. We are relocating the bell.  If you would rather stay in your car, please call the front desk, and it will be brought out to you.
Since the casino is closed, we made arrangements with our bank for you to cash your Elders check. It is Columbia Bank on Olympia's west side.
We sincerely appreciate your patience during this time.
---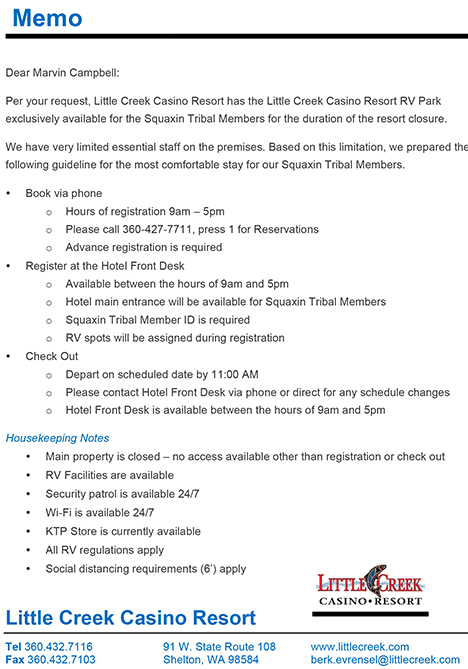 ---
Rent and Utility Payments

Community,
As the Tribal Leadership continues to work hard at protecting our community from the COVID-19 virus, we are also working at easing the burden on you economically. The Council has approved deferring all rent, and utility payments until May 1st, 2020. Be aware that defer means payments that accrue will be added at a later date, the additional amount will be averaged over the remaining 7 months of the year so as to not create the payment of an entire month at once.
For Tribal members who do not live on the reservation but may have been laid off from work, we ask that you call Family Services at (360) 432-3906 to see what funds you may be eligible for.
---

Squaxin Island Community Residents
Your household received toilet paper today delivered by some of our exceptional fellow Tribal members. As toilet paper remains in high demand during Covid-19, please use this as a reminder to not flush wipes, paper towels, disinfecting wipes, or any other paper products besides toilet paper down the toilet.
Although flushable wipes say they are flushable- they are not. They clog pumps and can lead to overflow of sewage that can cause problems to the environment and human health. An overflow would cause a community wide back-up into your neighbors homes. So please: No wipes down the pipes!
---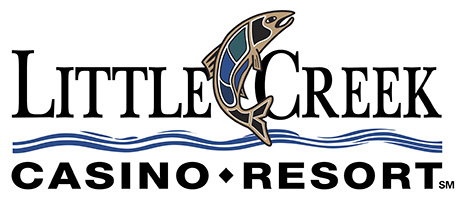 Little Creek Casino Resort recognizes this is a challenging time for all, and we remain deeply committed to the safety and wellbeing of our guests and team members. To that end, we have determined it is in the best interest of our community to suspend all operations; the hotel, RV park as well as Salish Cliffs Golf Club will be closed as of Wednesday, March 25th, 2020.
Our plan is to re-evaluate reopening in April. We will continue to update our guests on any changes to our operation through our website and Facebook page. For questions you may call 800-667-7711.
We are humbled by your loyalty through this rapidly evolving situation. Little Creek Casino Resort remains committed to keeping our resort safe and healthy for you to enjoy as we do our part to slow the spread of the COVID-19.
---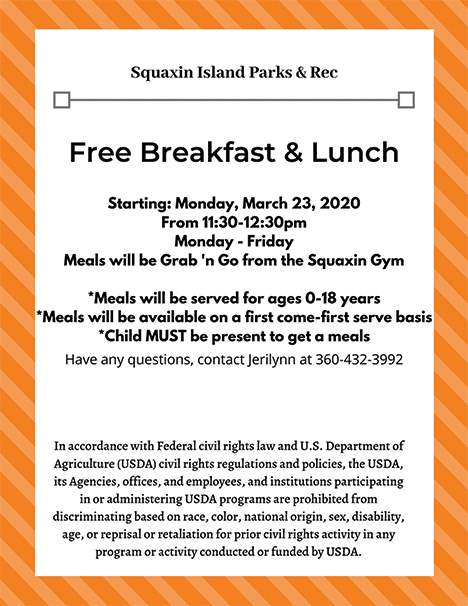 ---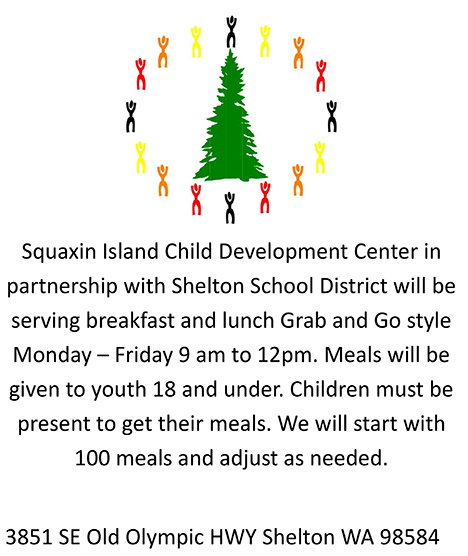 We Miss You!
Don't forget we have free curbside meals
Monday through Friday
9:00 a.m. to 12:00 p.m.
For children 0-18. Children must be present!
Your teachers are working hard on lessons & activities to share with you all, be sure to check them out on our Facebook page.
https://www.facebook.com/SquaxinIslandChildDevelopmenCenter
Staff are also putting together activity boxes for families that want them. Pick up curbside at the center.
Miss Vicki is working hard on Early Head Start and Early Childhood Education & Assistance applications. If we are missing information or if you need enrollment packets let us know!
We are also cleaning your classrooms from the ceiling to the floor to make sure our environment is safe for when you return.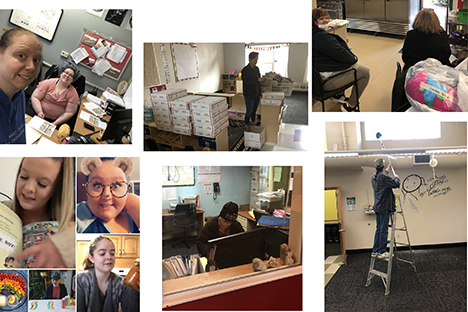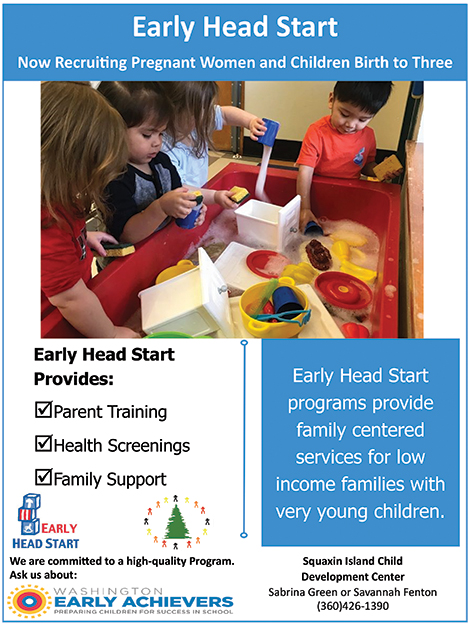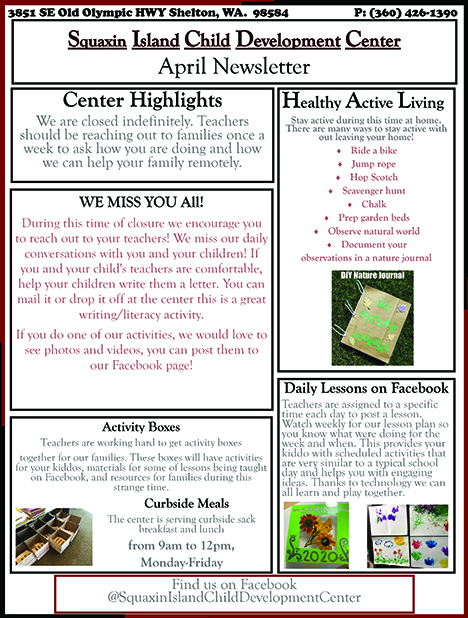 ---
Clam and Oyster Harvests – Effective beginning 3/22/20

In response to COVID-19 clam and oyster harvests will be conducted in a manner that reduces the risk to the community. All future clam digs will be limited to no more than 25 harvesters at one time. This means non-senior clam digs will be run as LIST digs – where only harvesters whose names are on the list can participate. In an effort to limit the number of persons gathering, there will no longer be standbys at the ramp to fill in for no-shows and harvesters are asked to maintain social distance while waiting to board the barge. Persons who are sick will not be permitted ride the barge or participate in the harvest. Squaxin Public Safety will be at the pickup locations to assist.
On beaches where designated digging is normally allowed (like the Island and most state and enhanced beaches), but are now being run as LIST digs, the designated digging rules will be modified. A Senior or person with a medical issue who wishes to have a designated digger must either decide to dig for themselves OR have a designated digger dig for them. If a senior chooses to have a designated digger, that designated digger can harvest the senior's limit only when the designated digger is on the list themselves. If the Senior in question chooses to dig for themselves they will be on a list themselves, but they will not have the opportunity to have a designated digger dig for them.
For harvesters who wish to have their spouse participate along with them on non-private tidelands, they will have to provide their own transportation, if there are already 25 harvesters on the barge.
For the Senior digs – Seniors have been separated into 3 groups: Seniors A, Seniors B, and Seniors C. Each group will have their own dig on a separate day. For these Senior digs, Seniors and their designated diggers will be in the same group so the above restrictions on designated diggers will not apply. For Senior only digs, each senior may choose to participate or have their senior designated digger harvest for them just as in the past.
Thank you for your cooperation and patience as we react to the developing situation.
---
UPDATED!
Squaxin Island Behavioral Health Services operations under Tribal/State of Emergency
While the Tribe is operating under a Tribal/State of Emergency, Behavior Health will continue to be available as essential staff through a Tele-Health system. This means we will be working through a face-to-face video chat and telephone application while our employees and clients are in the safety of their home. Our front office staff will also be available to take, return and transfer calls during this time.
At this time, we are offering the option of replacing current and/or future scheduled counseling appointments with a video chat session through 3CX Web Meeting, Zoom and/or doxy.me platforms – all available to both Apple and Android users. If this is a route you are wanting to explore, please contact Kaitlyn at the front desk (360-426-1582) to schedule or, if you have access to your counselor through their work cell, you can schedule a session with them. Staff will take the time to walk you through the process in order to make this and ourselves available to you.
We have access to all of our regular contact methods during business hours 8:30 a.m. to 5:00 p.m!
As always, if this is an emergency and you are unsafe, dial 911.
BEHAVIORAL HEALTH MAIN LINE: 360-426-1582
MASON/THURSTON CRISIS CLINIC: 360-586-2800
---

Family Services has the following plans in place, which is all dependent on essential staff staying well and with other departments we work closely with – safety will be the first priority, as well as being able to keep access to supplies.
We encourage everyone to call and see what you may be eligible for. We have several different programs and, due to current circumstances, there may be services available that you think you cannot get. The front desk line – (360) 432-3906 – will go to a staff cell phone and be answered as though we're in the building.
Elder Programs
All Elders are getting a lunch delivered and homebound elders/vulnerable adults get shelf-stable foods on Friday, for the weekend. Jamie Queen can be reached at (360) 545-2570.
Indian Child Welfare (ICW) Programs
ICW will continue with investigations only, based on reports received from community or other agencies/tribes. Therefore, no supervised visits or home studies will occur. If communication with the court is necessary, this can be done telephonically and electronic documentation too.
TANF Programs
TANF staff will still be able to get the usual payments into the system, providing the finance system continues operating. A day and hours will be given for picking up checks and other incentives at the office. People will need to arrive to collect at the times we will announce, since the office will not be open outside these hours. We will determine starting new clients on a case-by-case basis, based on safety for both clients and staff. The focus will be on housing and food.
Food Bank
The Food Bank operates on Fridays. Pre-made boxes/bags will be prepared to go directly to your car to reduce social interaction.
Crime Victims, Domestic Violence Services
Crime victims, advocacy, community healing and domestic violence services will provide resources wherever possible related to food, bills, and communicating with other agencies to advocate for telephonic hearings, for example. We cannot provide any transportation for the time being.
Childcare Payments, Vouchers for Gas and Clothing
Childcare payments, for those who are still working, will continue to be paid. We will be submitting all required paperwork, etc. to Finance at both the Tribe and SPIPA to get payments and other incentives out. There will be fewer distributions of vouchers for gas and clothing assistance, because these things were assisting with appointments for children, work, classes, and other usual activities that are now cancelled, and since we have to meet grant requirements. If you live off-reservation and have been receiving services, these will continue. Any potential new clients, please call and we will assess your needs with you.
Essential staff will have calls to their desks go directly to their cell phones.
Charlene Abrahamson, Director (360) 432-3914 |
---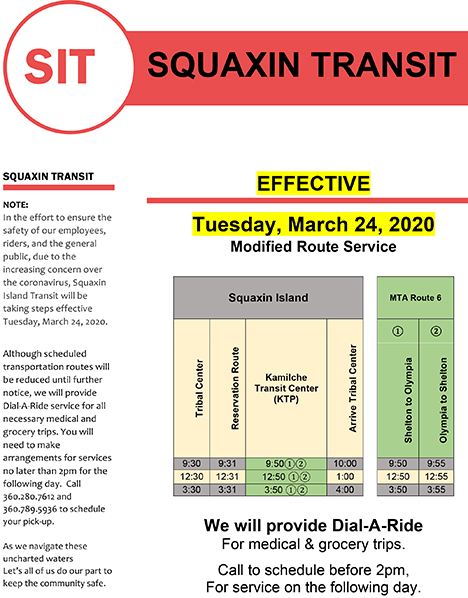 ---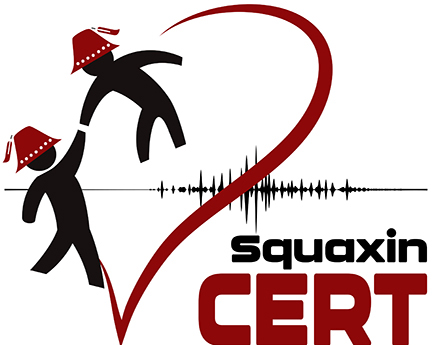 We believe the greatest threat to our community is to our Elders. We ask that all Elders with compromised immune systems remain in their homes.
CERT members are making contact with our Elders on a regular bases to see what needs they have.
Contact CERT: or (360) 426-5308.
If you are living with an Elder with a compromised immune system, please limit leaving your home.
---
Community Services Announcement: WIC, USDA Foods, LIHEAP/Energy Assistance
We are still accepting and processing WIC benefits.
Please call (360) 426-3990 to discuss your WIC needs.
Commodities: You could be eligible for USDA Foods. Call (360) 426-3990 to get set up. You cannot be on SNAP to be eligible for USDA Foods.
Energy Assistance: If you didn't utilize LIHEAP benefits last year, please call the SPIPA office to see how we can help you.
Debbie Gardipee
(360) 545-7281 work cell

---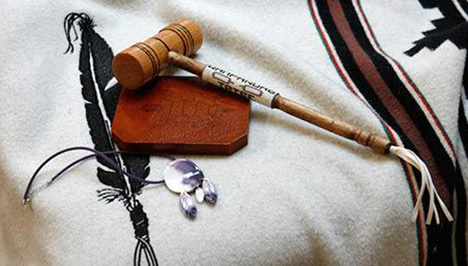 Court Emergency Standing Order
---
Beware of scams surrounding covid-19
Beware of scams surrounding covid-19 test kits and other medical supplies.  Scams are asking for credit card #'s promising to send equipment/supplies.
The National Hot Line to report scams is 877-720-5721.  FYI – I tried calling the hot line and it continued to ring, probably due to the high call volume.  I did confirm the # on the website.
– Ray