The people now known as the Squaxin Island Tribe are committed to the honoring of Mother Earth, the resurgence of our traditional ways and the respect and protection of all people, not only those who are living, but also those who have gone before and who are yet to be born.
We are a diverse and proud people. Our unity as a tribe goes beyond geography. Once we were many communities with a similar language. Following our confinement on the island, we once again dispersed. We are a returning people, returning to our land, returning to our culture. Our long memories, our ingenious adaptiveness and our confidence in knowing who we are have led to our continuing existence.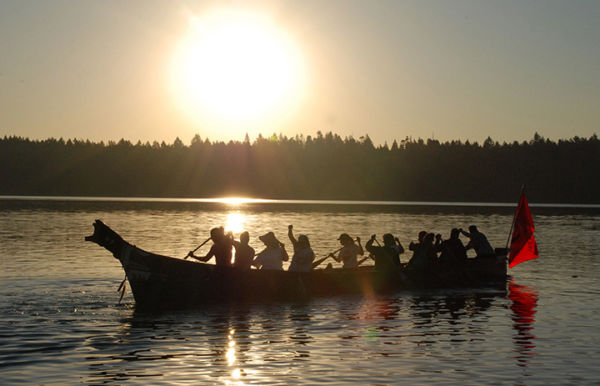 Our tribal family seeks to maintain the pride, honor and dignity that is our traditional way. Through art, singing, ceremonies, fishing, vocations and traditional medicine, we celebrate the individual abilities and talents which have made us the people we are today. It is our intent that our lives and our work be meaningful and will contribute to the well-being of the entire tribe. We believe this will bring about a resurgence of our culture.
Our greatest natural resource is our elders. They are our history. Another valued resource is the children. They are our future. It is the privilege and the responsibility of the young adults to see to it that the elders and the children are honored and nurtured.
We believe that the Great Spirit is with us in everything we do, and to maintain our relationship to Mother Earth and to achieve physical, mental and spiritual health, we will always need to remember who we are and why we are here.