Running for Tribal Council Member 2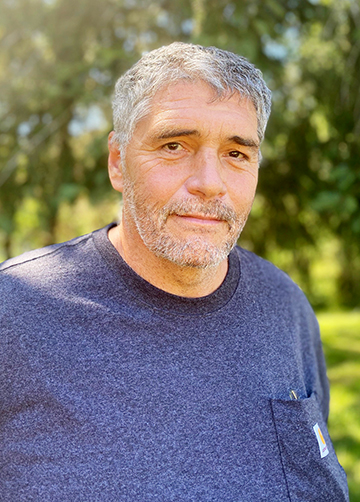 Nominated by: Mistifawn Martinez; Dakodah Vigil
Hi!
I'm Steve Sigo. I was born here in Mason County in 1962 to Dewy Sigo, which makes me the grandson of Florence Bagley and Edward Sigo, great-grandson of Lottie/Sarah Skalipin and William Bagley, great-great-great-grandson of Mary George and John Skalipin and the great-great-great-grandson of Tyee George.
I would like to see a clear pathway for all of our kids, and people in general, when it comes to getting higher education, whether that be college, trade school or apprenticeship programs.  With a better education, I believe we can become a stronger community and reach the goals that have been set in place and those yet to come.
I'd like to see transparency in our wages. This information should be accessible to all tribal members in a clear and concise manner.  And with that, I would like to see a work ladder in place so that we can see what is expected of us to reach those upper positions.  I'd also like to see a program in place that asks our people what they would like to do or what career path they would like to take and then, with that, have a program in place to make sure that can happen.  If our people feel successful in their careers, it only helps all problems that need to be addressed. A person who feels proud and happy with what they are doing will take that pride home to their families and, in return, teach their children and family the same.  With that a lot of our depression and addiction issues will be addressed. Successes is Happiness. . . being able to support yourself and your family while being happy.
At our enterprises I've heard that our tribal members are too expensive to hire, and I'd like to see that attitude change.  If we could have wages that could support a family then, in return, our people would feel the pride they deserve and should expect.  The only way to make a healthy community is to encourage and lift each other up. Our tribal people are our greatest natural resource.  When we can pay our executives $225,000 dollars a year, we can dang well pay everyone else at least $18 dollars an hour.  I want to also see that, when a tribal member applies for a job,  they get at least a shot to interview.  Too many times I've witnessed our young people do what we've asked and get an education and come back and try and work for us only to be overlooked and not even interviewed. This needs to stop. We have kids here that don't even want to try and work for the tribe anymore because they've been overlooked time and time again and by people that didn't even have the education and experience asked of the job.  We can't set people up to fail; we have to set people up to succeed.
Our Elders need to have better resources.  Right now we have Elders who should have full time care and someone checking in daily, but this isn't happening.  They aren't eating our traditional foods, and then we wonder why they are having health issues. Well, for generations our people have been consuming certain things and genetically we need them to be healthy and survive.  We have two different age groups of Elders and we need to make sure that those that can't get to the meetings are being taken care of. Sometimes people aren't seen or heard from. Sometimes the people in the work positions to help these Elders don't do what needs to be done and our older Elders sometimes let pride get in the way and don't ask for help. Not only pride . . . sometimes just needing help is hard to admit to. We have the responsibility to make sure that we are doing our job.  We also need to put programs in place to reassure the Elders are getting time with the young ones and that our youth are learning to help the Elders. It's our job to teach our children to take care of each other.  We also need to make sure the kids are learning from the Elders and make sure that we have time to tell stories. Not only can the Elders teach the kids, but the kids can teach the Elders.
I'd like to see programs in place to keep kids busy.  I know from experience that, if our kids are busy in healthy activities, it keeps them from finding trouble and keeps them focused on schooling.  I'd like to see after school programs that are helping all of the kids, and tutors at all the surrounding schools that our kids could use as a resource when they need that extra help.  I'd like to see budgets for these kids to travel and play ball without feeling less than. They need to have funds to make sure the teams are being supported, whether it be baseball, basketball, or maybe soccer.  With that being said, not all of our kids are made for these sports. Maybe they want to do dance or cheer. That to needs to be supported, too. Keeping them busy is the key to keeping them in school and out of trouble.  Some of our kids are natural artists, and we need to have those resources available so that they can learn how to express themselves in a way that benefits them and their futures, maybe in an art career. These are some of our oldest lines of work that we know of, and we need to encourage and support those who have it in them to explore that avenue.  Our kids need to be able to get off the bus and go to a safe place and learn our art forms of gathering, painting, carving, weaving, preparing of materials,  learning to prepare and store our foods, and marketing.  We need to teach our kids to take those foods to our older Elders who can't access them. The joy that our kids will learn in preparing those foods and sharing and the time they will spend with the Elders learning and hearing stories is priceless.  Learning shouldn't need to feel like a job; it should be something that is done seamlessly. They shouldn't really even know they are learning; it should just come naturally. It's something they will never lose and, in return ,they will teach our grandchildren to do the same. I guess I'd say everything is intertwined the way it's supposed to be.
Natural resources have been part of my entire life. At the age of five, I started digging clams to help my grandparents fill orders.  While Enterprise is doing a fantastic job acquiring more property and enhancing the total biomass of clams, I believe we can do a lot better on marketing and what we can pay tribal members, by bringing up value and bringing up the prices . I also believe we can do more to bring up our overall fish numbers.  Back in the 80's we released over 20 million from the fish pens, and we now need to do what ever it takes to bring those numbers back up.  In Budd Inlet we've had really good returns the past few years, and the majority of the fish swim by without being caught.  We need to teach the fisherman to catch the fish that are swimming by and teach them better techniques, such as how to hang their nets so that they can catch kings.  We can also show them when, where, and how to use deeper gear.  We need to upgrade our fishing techniques with some newer ways of fishing with newer types of resources.   I believe we can experiment with jigging machines to catch the early deeper fish.  One idea was brought up by another council members' husband that we should look at troll fishing, and I think that its an idea worth looking at. It should be a real clean fishery and not harm our environment.  And those are just a few suggestions.
Law enforcement should work for all tribal members and never be used as a weapon against some and protections for others that are doing the same thing.  You should always feel safe to contact them with any concern and not worry about consequences.  We need to have more gatherings involving officers so  we can feel comfortable and get to know our law enforcement better than we currently do.
If anyone has any questions, you can contact me at  (360) 701-1366 .