Transitioning from Summer to the School Year Food Program 2020-2021
As we are transitioning into the school year we will continue to distribute meals for the youth ages 0-18. Families interested in receiving meals will need to register each youth in their household. The link can be found on our Squaxin Island Parks and Recreation Facebook page and at the end of this article. If you live on the reservation, meals will be delivered to your home. If you live off the reservation and live in the Kamilche Valley, you can pick meals up at the Squaxin Island Child Development Center at 12:00 p.m.
When you register to receive meals you are agreeing to receive meals daily (Monday- Friday). If there are any days your family will not be home or not in need of meals, it will be your responsibility to reach out the Parks and Recreation staff. If we try to deliver meals and you are not home, we will stop distributing meals to your home after three days. Meals can resumed after you reach out through the number listed below.
In October we hope to resume both daily enrichment activities and weekly neighborhood activities. Activities would be delivered daily with meals. We will begin scheduling a weekly Zoom meeting to lead an activity. Our Zoom meetings will include a daily trivia question and a fun hands-on activity or game. We will slowly increase our Zoom meetings. By January we will be required to hold a daily Zoom meeting for the youth participating in the food program. Zoom meetings will be held in the afternoon to avoid conflict with the school work but will be a fun way to end the day. Also, in October we will have our monthly activity calendar in the Klah-Che-Min and we will provide a copy for each family who receives meals.
If you have any questions or would like to register for meal delivery, please call Jerilynn at 360-432-3992 or email
Please sign up for the meals here
Thank you,
Jerilynn Vail-Powell
Youth Activity Manager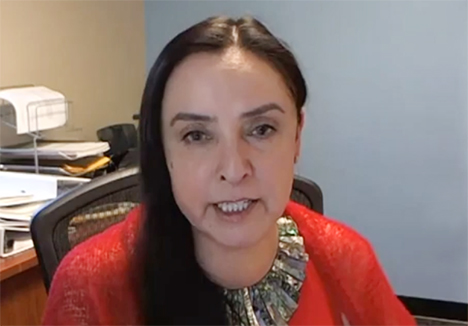 Family Services Director Charlene Abrahamson, Parks and Recreation Director Janita Raham and Savannah Fenton, Child Development Center talk about food services available during Covid-19
---