Running for Tribal Council Chairman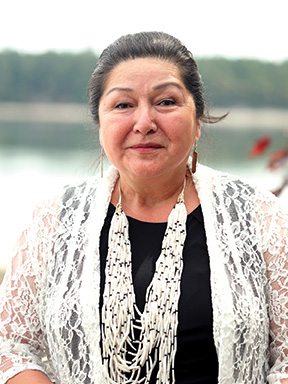 Nominated By: Lisa Johns
Hello!
I respectfully announce my candidacy for the Squaxin Island Tribal Council Chair position. You may question my decision, as I already hold the Vice-Chair position; let me explain. As your Chairwoman, I would have a stronger foothold to address matters that concern Squaxin Island Tribe, concerns that require communication with local, state, federal, and tribal governments.
I have represented Squaxin on historic court rulings, such as the Shellfish Litigation in 1996 (Boldt II), and the Culvert Treaty Fishing Litigation of 2006-2007. Theses were cases where I served as an expert witness to speak on behalf of Squaxin Island Tribe and our inherent rights as the original stewards of this land. If elected as your Chairperson, I would continue to serve in the capacity that enriches community wealth.
On a macro level, our community is facing racism, vast levels of inequality, an incompetent federal government, and an equality gap in pay for women. We have all been impacted by the video of George Floyd's murder and the resulting historic protests. While it is seen more now, with access to video media, this violence is not new to native people and people of color. Many of us have experienced blatant racism while out on the waters fishing, or on the beaches clam digging. The death of George Floyd shows us the world we live in, and what we need to do to keep one another safe. Now, more than ever before, we need to come together as tribal nations to uphold our ancestral relationships, our alliances as the first people, and to influence change on a federal level by electing officials who will not promote lateral violence or tolerate oppressive laws that disadvantage people of color. As your Chairwoman, I will not back down or turn away in times of adversity; rather, I rise to the challenge on behalf of all of our Squaxin Island people. As an Elder, I know the importance of communication and want you all to know that my doors are wide open for anyone in my community to come to speak to me face-to-face, and we will honor the six feet distance.
If elected as Chairwoman my first acts would be:
1. Strengthen and empower overall tribal strategic plans utilizing input from Squaxin Island members. We need you to step up and participate in tribal government by actively being involved in service on the committees, commissions, boards and Councils. The coronavirus pandemic has shown us flaws in our system, specifically in our annual elections and the need to update tribal policies which impact your families. The Tribe has memorandums of agreement with Mason County police department that are needing immediate attention and change to protect Squaxin Island Tribe's sovereignty. The Squaxin Law and Order Committee will be reactivated and called into action.
2. Enrollment is a legacy we all need to give serious consideration to and what Squaxin Island Tribe wants for the future. We all have loved ones who will be impacted sooner or later. Enrollment needs to be a referendum – a special vote of the people – after all facts and education have been given…the Squaxin Island General Council needs to make the vote.
3. Invest in stronger cultural values throughout all of our business decisions by upholding ancestral protocol, our original laws. This includes streamlining mentorship programs, and developing Pathways-To-Work programs for those that do not have the education or training in the roles they are applying for. As an Elder, I believe in mentorship and passing on cultural knowledge. I will continue to uphold this value and exemplify a strong sense of leadership for any of you who wish to learn, in addition to creating programs for our youth to gain a better understanding of who they are and what they mean to the community.
4. And finally, I would like to see a financial analysis conducted over the entire of Squaxin Island Tribe's administration and all enterprises to evaluate spending practices, jobs, and wage disparities.
I will make it my responsibility for this General Council to have an equal seat at the table, because the decision made today impacts Tribal Members' futures. Your voice is important and needs to be heard. Knowing that you all have entrusted me to serve and represent you for so many years shows your commitment to the future success of our great community and belief that I can get the job done.
If you have any question, you can reach me @ (360) 280-0301 or .