Elections are being done via mail-in ballots.
Tribal Council Candidates
---
---
General Council Elections
The General Council meeting is cancelled due to the continued and growing risk to our community's health and well being. However, the General Council elections are continuing with mail-in ballots. This elections procedure is new and unprecedented in our history. We are moving in this direction in a format that is most agreeable to the Tribe's Electoral Code and Constitution.
Voters Please Update Your Addresses if Necessary. Contact Tammy Ford (  or (360) 432-3888) to update your mailing address as soon as possible.
Candidate representatives, law enforcement, and the Elections Committee supervise the ballot counting by the Elections Consultant.
Some of the the frequently asked questions about elections can be found on our Elections FAQ Page.
Elections Consultant
The Elections Consultant will be managing the Ballots (distribution and counting)  in order to ensure a non-biased and anonymous election. Our Elections Consultant is MKElections, a expert in Election  Administration who has done elections for the Squaxin Island Tribe for many years  as well as many other organizations and tribes including Klamath , Samish and Suquamish Tribes. More information about MKElections can be found on their website here .
More Information
For questions or concerns about this process please contact us at .
If you are interested in reading our Constitution, it can be found here.
---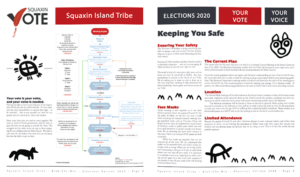 Elections Newsletter 2020, a Publication of the Elections Committee
Note that this publication is outdated. The meeting has been cancelled. Please allow it a moment to load.
---