Running for Tribal Council Member 2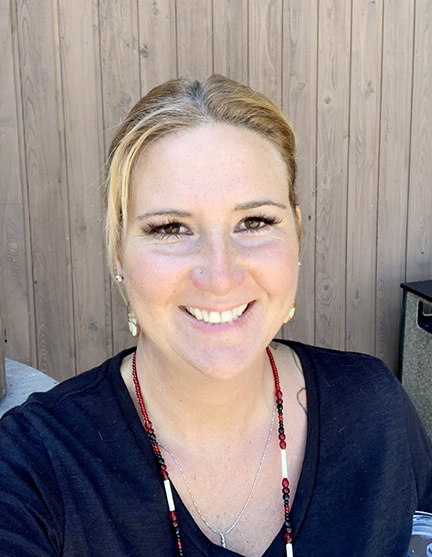 Nominated by: Janette Sigo
Hi!
My name is Janita Raham. I am the great-granddaughter of Florence and Ed Sigo, the granddaughter of Dewey and Virginia Sigo, and the daughter of Janette Sigo and Scott Meyer
I pride myself on being a lifelong resident of the Squaxin Island reservation. To me, it is an honor to be of the Squaxin people and to raise my children on a land full of culture, family and love. This is really, the only place I could ever imagine raising them. Daily, I witness our Tribe grow in amazing ways and, as we continue to take strides in bettering our community for generations to come, I feel I would be a great candidate for Council Position Two because I know this community and our people. I remember when we were a small family and General Council was held in the old school where the casino now sits. As a little girl, I knew every person in the room. Now as an adult, I'm looking out at an event center full of both familiar and unfamiliar faces. One thing hasn't changed, though, and that is the sense of family and support we give and receive here within the Squaxin people.
As I continue to watch our community evolve and grow, I also see so many left behind and forgotten. We have families dealing with the same trauma generation after generation. It's time we create programs that are not punitive but are resources to our people. I know money is very important for maintaining our community and making these services readily available, but they become a hindrance when those who need help don't know they exist or are not comfortable accessing them. I know that with my dedication and my experience working with Tribal youth, teens, Elders, foster children, and domestic violence and sexual assault victims, I could really help make a change. I am professional, hardworking, and maintain confidentiality, all while being a supportive advocate who will raise you up until you reach your goals; because your success is ALL of our success. That's what being a family and a community is about.
In order to create a strong prosperous future for the Squaxin people, I think we would benefit by creating and supporting programs that are educating our children and families on healthy relationships and setting examples of healthy lifestyles. We need to focus on healing our community from the years of historical trauma that has resulted in lateral oppression, domestic violence, and drug and alcohol abuse. When we are supporting our families and working together to create healthy children, we build a stronger Tribe of future leaders. We build a legacy.
To me, this position means bringing new ideas to the community and further opening the door for community involvement and communication. I am open to change and I listen. A lot of times people feel voiceless, which needs to change. As a member of Tribal Council, you are an advocate for those who cannot speak for themselves, you are an advocate for those who come to you for help, and you're an advocate for your community. I am a leader. I get things done and I follow through. I feel I would be a good fit for this position.
Over the past few months, I have watched us come together in a time of crisis and unpredictability . . . helping extra when you can and supporting those going through a rough time. We need to continue this, grow from this. We need to give our people a hand up not a hand out.