Running for Tribal Council Chairman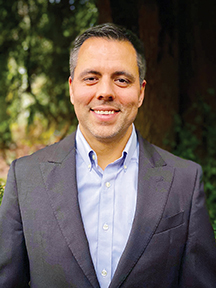 Nominated by: Joseph Peters
Hello, my name is Kristopher (Kris) Klabsch Peters. I am happy to announce I am running for the position of Chairman in the upcoming General Council election.
I have served our community for over 20 years, making difficult decisions and working around-the-clock fighting for our people. I hope to do that again as your Chairman. I would be so very honored to serve you all in this new capacity.
I am the middle son of Michael and Linda Peters, grandson of the late Emory and Ruth Peters, and greatgrandson of the late Jameson and Josephine Bagley Peters. As a boy, I grew up on Eld Inlet next door to my beloved great-grandmother, Josephine, listening to her share stories about her life on Squaxin Island, and watching my great uncles, Cal and Bill Peters, play cards and watch sports for what seemed like days on end. I treasured time with my father on his bow picker in Budd Inlet and on his aluminum skiff beach seining in Pickering, Peale, and Zangle, and, of course, gill netting chum in Eld Inlet.
My early career in law enforcement exposed me to the social injustices facing our people. As a young police officer who became the Chief of Police, I always led with my heart. I witnessed the good in others, even when they were struggling. I wanted to heal our people, and I took great pride in my job, trying hard to serve with compassion and respect in every aspect of my job. I also worked many years as a Natural Resources Officer and Sergeant. I loved the time spent on the beaches, on the water, and patrolling the woods – year around and all hours of the day and night.
In 2014 I received my undergraduate degree in Native American History & Law where I gained a strong understanding of our history and generational trauma, the root of many of our problems. Later I received my Master's in Tribal Administration and proudly served three years as your Tribal Administrator.
Last year, I left my position with the Tribe to teach in the Native Education Program at Evergreen State College and am now serving as a Tribal Liaison for the state of Washington. I have spent countless hours traveling to reservations throughout the state, learning about other tribes and working with state representatives advocating for our rights and our sovereignty.
My education and personal experience serving our community in these roles has helped me understand the depth and urgency of our struggles. Our Tribe needs leadership. Differences are good; conflict is good. As Chairman, I would do my best to facilitate healthy debate, keep us focused, and offer the guidance needed to bring us together, make decisions, and move the Tribe forward. I will listen and honor the perspectives of our elected council members and create more avenues for our people to speak to tribal leadership. I want to bring the voice back to our people. Transparency and open communication are my top priority. We must listen with our ears and our spirit.
We are Squaxin!
We come from the Noo-Seh-Chatl, Steh-Chass, SquiAitl, T'Peeksin, Sa-Heh-Wa-Mish, Squawksin, S'hotle-Ma-Mish. We are all family who were never a singular people, but a collective who lived and survived together since the beginning of time. I wish to honor our ancestors and the great leaders of our past and do what is best for future generations. I live by the 7 generations mindset.
I have demonstrated success as a leader who puts others first. I believe in the greater good, and I take pride in doing what's right. I know this is a lot of talk, but I mean every word. Please attend the General Body on June 27th and consider voting for me to lead our people forward.
Find me on Facebook – Klabsch 2020 
Respect and love,
Kris
360-490-1441